Cardiff Cottage in The Pines
Come and enjoy the warmth and ambiance of this charming & artistically pleasing redwood cottage style home that is located amidst the peace and serenity of a forest setting with sheltering pine and oak trees.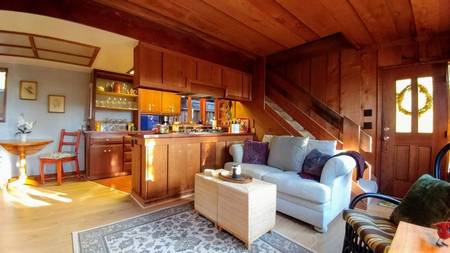 Reservation Request : 2101 Cardiff Dr.
Deborah Berk, Proprietor
Cambria, California 93428
Reservations
800-240-2277
We had a wonderful stay at the Cardiff house. It's in a quiet location, surrounded by pines, with a lovely roof terrace to enjoy the sunshine.
The rooms are very comfortable and cozy, with a rustic feel from the wood paneling and ceilings. The layout is open-plan, with the bedrooms tucked away upstairs and in the rear. The kitchen is well-appointed with everything clean and in good condition. Netfix etc. is available (if you have a subscription), and Scrabble, which were much appreciated on a rainy day!
Date of Stay 12/23/19